Welcome to the House of Prince 
The "House of Prince" is a 120 years old restored country mansion in South Evia (Styra), where we invite you to spend peaceful, relaxing holidays in an authentic village away from the city buzz. Ideal for couples, families and small groups up to 21 people .
Styra with their Dragonhouses (Drakospita), combining country and sea holidays, unspoiled sandy beaches and mountains totally unaffected by mass tourism, allows you to be amused by the natural beauty, the traditional picturesque villages and the magnificent gorges all year long. Visitors fond of hiking, mountaineering, trekking, nature lovers will find here their home away from home.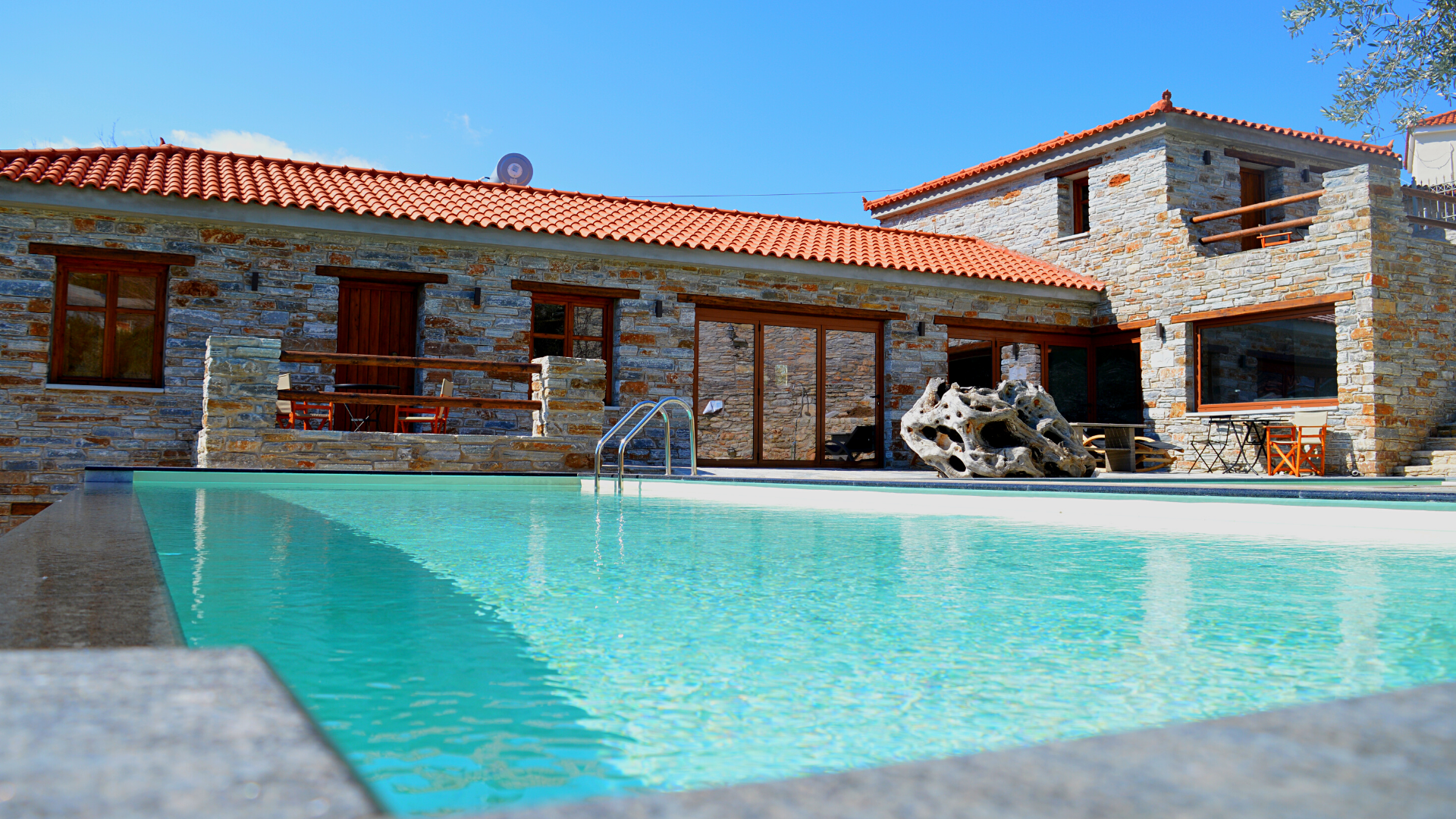 At the House of Prince we invite you to:
– Experience the luxurious simplicity of an authentic villa at the greek countryside
– Take part at the cooking classes and enjoy your meals cooked in a 120 years old stone oven
– Taste our welcome basket with 25 finest organic products
– Take part in organized walks
– Join the celebration during the production of olive oil and tsipuro
– Swim in the crystal clear waters at the Aegean and Evoikos sea
– Step out of the mainstream
Vicky M., Australia
"My husband and I had the absolute pleasure of staying at The House of Prince. We cannot recommend it highly enough- it was perfect! What made our stay even more special was the hospitality of the owner and his family. We were welcomed with fresh vegetables from his mothers garden, homemade "raki", fresh figs hand picked from the garden and so much more. We will definitely be returning to this stunning house."
Zsolt T., Hungary
"We spent 8 amazing days in this beautiful house with our four daughters. We had a wonderful time and we definitely want to return in the future. The house is located in a peaceful little village with a charming main square and friendly locals. Our host was fantastic: quick to answer emails, extremely helpful and hospitable. He gave us detailed information on the best beaches, restaurants etc. He even prepared a delicious dinner for us in a traditional stone oven. The house itself is equipped with all modern conveniences, we didn't miss a thing. We tried almost all the beaches Jannis recommended, they were beautiful and not crowded at all."
Jessica B., United Kingdom
"The accomodation was perfect, a very special welcoming house. A lovely welcome by the owner, a delicious welcome basket……and an afternoon eating home grown food and tasting the new bottles of sipero. Thanks Spiros and Penelope. Evia is a perfect island (so far unspoiled), views and beaches – amazing and deserted with lovely taverns to eat in. The weather for the time of year was perfect…not swelteringly hot but soooooo comfortable. It is an unspoiled secret island that I would hate to see spoiled by commercialism…….so shhhhh!!!!!!! All in all it was (yes you've guessed it)….perfect !"
Andreas S., Germany
"Geschmackvoll restauriertes Haus mit antiken Möbeln, sehr sauber und hochwertig ausgestattet. Das Haus befindet sich in einem authentischen Dorf mit Tavernen, Kafenio, Supermarkt und Bäcker. Alles gut zu Fuß erreichbar. Die Insel hat uns sehr gut gefallen, besonders die Strände an der Ostküste. Auch eine Wanderung durch die Dimosari Schlucht ist zu empfehlen. Sehr netter Besitzer, der uns persönlich die besten Tavernen und Strände gezeigt hat."
Sarah T., France
"The house which has its own history was beautifully renovated by owner Ioannis, It has its charm, all pieces of the furniture pass well to the house's spirit. We have spent 10 relaxing days in Styra, surrounded by the little town's everyday life. The house is just fantastic, comfortable and stylish at once. The owen is just perfect and the lamb Ioannis made us was marvellous! He was such a great host I have to thank it again. One shouldn't miss the tour to the castle on top of the hill facing Strya: to stay amidst the ancient gate and to look at the view from the top is fascinating! The locals are really friendly and the tavernas nearby are great."
Anastasia K., Russia
"This is indeed a gorgeous property, a beautifully decorated traditional Greek stone Villa with tasteful furnishing including many antique pieces. The stone built Villa is placed on a nicely landscaped piece of land with fig, lemon and pomegranate trees. The owner Giannis and his family made us feel exceptionally welcome from the very beginning. Their warm hospitality made us feel at home; their insightful suggestions of places to visit, beaches with crystal clear waters, wonderful tavernas with mouthwatering food, helped make this a truly memorable vacation! Evoia is a fantastic island, and staying in the House of Prince was a truly amazing experience that we will always treasure!"
Our Story – A journey through time
"The House of Prince" was firstly built in the final decade of the 19th century and served as the family home of my great-grandfather, Dimitris Batsolas, whose nickname was "The Prince" and his home was known as the "House of the Prince".
After the 1970s the property fell into disrepair until 2012, when my wife Thalina and I embarked on a project to bring the House back to life and its original glory. The restoration lasted for more than two years. Local craftsmen paid extreme attention to all the details and realized tailored made pieces, leveraging their experience and creativity to preserve the historical local architecture of the property.
Several families, small groups, friends from all over the world have chosen since then the House of Prince for their holidays spending unforgettable memories.
During 2021-2022 the House of Prince has expanded with 3 new suites, a cellar, two playgrounds and a spacious 5 person spa ensuring our guests the feeling of a home away from home.
This is only the beginning of a story – there is much more that we invite you to discover.